A Woman Who Cared for the Earth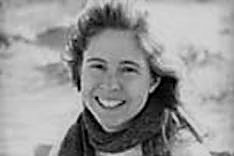 Gale Lynne Warner was an environmentalist, a writer, a leader with a caring soul, but most importantly, an educator. She showed us how to listen and learn from the earth.
She packed a lot of life into her 31 years.
Born on June 7, 1960 in Columbus, Ohio, but reared on a farm near Ashville, Ohio, Gale always had an affinity for the outdoors. She would sit outside and journal for hours beside her cat, Karen. She soon took up nature photography as a teen, finding another means of capturing what she cared about.
Gale made her way to Stanford University in 1978 where her love of writing and the natural world would only continue to grow. Her focus on biology and research didn't stop her from looking further into environmental issues of ethics and the power of writing about the natural world. Education soon became a passion of hers after interning at Hidden Villa, a nonprofit farm in Los Altos Hills, California.
In her post-grad life, she continued weaving together lives and stories. She saw both how humans were impacted by the environment and how people were altering it as well. She and her husband worked in the anti‐nuclear movement and formed an organization under the umbrella of Nobel-Peace-Prize-winning organization International Physicians for the Prevention of Nuclear War (IPPNW).
Gale pursued a Masters in English from the University of Massachusetts while continuing to write—her poems, articles, essays, and books all reaching wide circulation.
"If we are going to save ourselves and our planet, we are going to do it out of deep love for ourselves, for the brilliance, humor, and compassion of which we are capable."
Later, she would find out she had cancer, non-Hodgkins lymphoma, and would go through several courses of chemotherapy and a bone marrow transplant. Gale passed away in 1991. But this isn't a cancer story, it's Gale's story.
This site is a collection of her work in honor of her legacy, as well as tributes to her life.